GOptions is a broker who has managed to catch our attention recently due to their impressively rapid rise in popularity, which has occurred over the last several months, and still continues up to now. Nobody rises that quickly in this super-competitive industry without having something truly unique to offer their clients. We wanted to find out for our GOptions review exactly what they were offering prospective clients to attract so many of them in such a short period of time. It sure implies to us that they must be doing something right. Enough so that they are certainly at least worth a look anyway. So let's get to some looking, shall we?
GOptions Review General Information
Website Address: http://www.goptions.com/
Company Launched: Founded 2009, Platform Launch Early 2012
Accepts US Traders: Yes! NOPE! NO LONGER
GOptions Minimum Deposit: $200
Contract Types: High/Low, Turbo, Long Term, Custom, One-Touch, Ladder, and Pairs
Deposit Bonus: Yes – From 30%-100% Depending On Account Type
Demo Account: Yes – Free GOptions Demo Account Available
Trading Platform Technology: SpotOption Based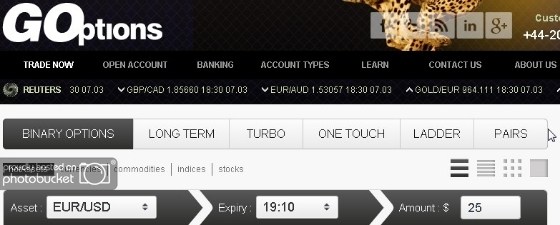 Read On For The Full-Length GOptions Review…
The first thing we really noticed about the GOptions platform upon first visiting their website to open our account was their variety of contract types available. Definitely one of the better lineups which you will find. Another huge plus for this broker is number of unique contracts and features which they offer (which we'll get to in detail in just a bit). This was a bit surprising considering that their trading platform is based on the popular SpotOption technology which is widely used in the industry. But GOptions simply has more features that can't be found elsewhere than almost any other broker out there. And it is probably that, more than any other single thing which accounts for their popularity.
 GOptions Features and Highlights
First let's look at a general overview of what the service has to offer, and then we'll look at the most important of those features in more detail below.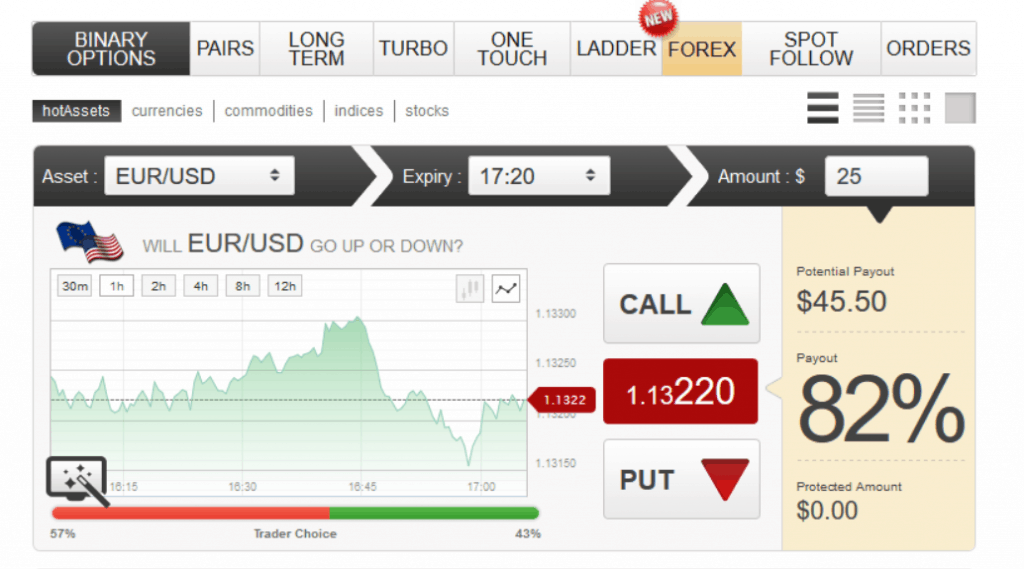 Turbo Options – 30/60/120 Second Contracts
Daily & Weekly One-Touch Options – Up To 500% Payouts
Pair Options Contracts
Long-Term Options – From 1 week To 1 Year!
Unique Ladder Options – Payouts Up To 1,250%!
$25 Minimum on Standard Trades, $5 on Turbo Options
GOptions Signal Marketplace W/Automated Trading Option
"No Hassle Withdrawal Policy" – Fastest in the Industry
Mobile & Tablet Apps and Compatibility
"Buy Me Out", "Roll Over", and "Double Up" Trading Features
GOptions has a solidly competitive overall trading platform, using the popular and widely used SpotOption trading technology to power their platform. From that we know that it is reliable software that is easy-to-use, and is popular among traders. That's why it is so widely used in the industry. But what's important is how it used. Because we have most definitely seen it used badly before. That certainly isn't the case here. Our GOptions review showed us what was probably the best use of the SpotOption technology that we have seen to date.
***Register For Your Free GOptions Account***
Where GOptions does especially well, however, is in the sheer number of trading features and option types which they offer. They are definitely among the top in the industry in this category. Their underlying asset selection could probably use a little work in global stocks area, but they have all the most popular and widely traded assets, and most people aren't likely to notice anything lacking.
GOptions "Long-Term" Binary Options
GOptions offers "Long-Term" contracts on a nice variety of underlying assets. These contracts can offer payouts of up to 90%, and are offered in expiry ranges from one week, all the way on up to one year. Yep, a whole year. Not many binary options traders have that kind of patience though, and when they do they tend to use more traditional means. But the less extreme contracts, of a week to a month or so can be quite useful for playing index trends with larger investments.
GOptions Turbo Binary Options – 30/60/120
Turbo binary options are GOptions answer to the 60-Second binary option. You still have the 60-second option, of course, but now you can also choose 30-second, or 2-minute binary options contracts as well. This opens up a whole new range of potential strategies for those who enjoy this highly fast-paced style of trading. And the payouts can range all the way up to 90% in some cases, and overall have been pretty good on average during our time there so far.
The Daily & Weekly One-Touch Options
Prior to this experience we had mostly been used to seeing only the weekend tradable, weekly one-touch binary options contracts. So seeing them being offered for trading all day during market hours took a bit of getting used to at first. This variety of one-touch option has lesser magnitude goals to reach, and lesser return rates offered in exchange. So instead of having to move 20 points for a 400% return, you would have to move 5 points for a 150% return. We actually quickly grew to like this variety better than their longer odds cousins. These are much more flexible and usable. But you have the weekly ones at your disposal as well so it's the best of both worlds, so to speak.
***Register For Your Free GOptions Account***
The GOptions Ladder Option Contracts
Ladder binary options contracts are a relatively new form of binary options trading only offered by a very few brokers at the moment. And each broker structures their Ladder options somewhat differently so it can be a confusing subject. We won't go into details in our GOptions review because that just isn't its purpose. But you can read more about them in our article here, or on the goptions.com website itself. But for the GOptions version, in a nutshell you are just choosing your own risk/reward profile by choosing which level(s) to set your goals at.
GOptions Signals Service Marketplace & Autotrading
Before getting to anything else it is time to talk about one of the most popular features that GOptions has to offer, their binary options signal service marketplace. A marketplace that has both free and paid services, as well as an automatic trade execution option. But this unique service requires a bit more detailed an explanation.
As a GOptions client you will get free access to the signals marketplace which has at least 40 different signals service/strategies at any given time. Once you have access to the system you can view all of the previous history of the service for the last 30 or 90 days. This will show you all the signals that were generated by the service, and of course its success rate and profitability. And best of all, most of these services are completely free! There are always a few paid plans available as well but they don't usually have any better a win rate than some free plans.
***Register For Your Free GOptions Account***
After you have looked through the various strategies available and found one you like you have a few options going forward from here. This is where the potential for auto-trading comes into play. Once you have subscribed to a service you can choose to simply have it manage your account and automatically execute the trades generated by the service if you want. And you can turn this feature off and on at will. Alternatively (and what we personally prefer) you can just have the signals sent to you by a variety of means (SMS, email, etc). There are also other options you can tweak and adjust. This is a very cool feature to have around for free, and is something which we would like to see spread to other brokers in the future.
GOptions Customer Service & Education Materials Review
We have only been with GOptions for barely a month at this point so we haven't had a whole lot of experience with the customer support team over at GOptions, but what experiences we have had were all pleasant enough. So far we have contacted them three times, twice using live chat, and once through email. The response times for both methods was good, with live chat being a matter of minutes, and email a matter of under an hour. More importantly though, we have not received or read about any substantial complaints about this broker, which is always a good sign in this industry. In addition, we found when doing research for this GOptions review that they were the recipients of more industry awards and accolades for the 2013-2014 period than any other broker in the business. That's a nice feather in the cap to have.
***Register For Your Free Finpari Account***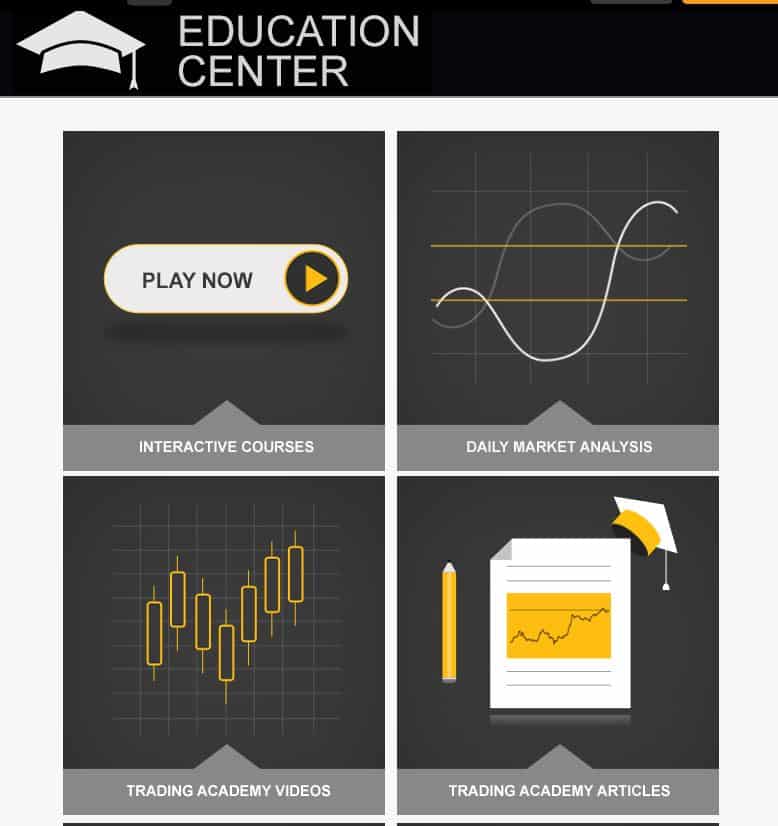 GOptions also operates their very own binary options blog. It is populated with market analysis, educational material, strategy articles, and even an educational video series. The video series is actually quite good. You especially may want to check out the two on ladder options trading since most will be unfamiliar with them.
GOptions Review Conclusions
We still haven't even covered everything you'll find over at GOptions but since we are nearing novel length here, we think it might be a good idea to start wrapping things up. When we look at the whole picture that is the GOptions service and trading platform we would have to say that they are probably among the top 3 brokers which we have reviewed this year. And probably the #1 broker for US-based binary option traders (GOptions no longer accepts US traders). Traderush, our previous #1 has fairly recently stopped accepting US clients as well (go here) for the best brokers for US-based traders).
Overall GOptions Review Rating = 4.0/5.0 Stars = Binary Options Bosses!
GOptions Trading Platform Video Overview
And if you have any experience with GOptions, or any other broker discussed here that you would be willing to share with the community then please leave us a comment below, or contact us. Thanks!