Boss Capital Review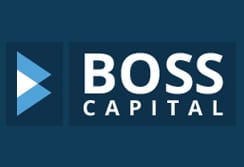 Boss Capital is one of the best binary options brokers serving the US market (update: no longer operating). After launching in 2014 they quickly managed to gain the attention of some influential voices in the community. This is partly responsible for their explosive growth in such a short period of time. But having influential voices on their side is not by itself enough to explain their impressive success. This is what our new Boss Capital review aims to explain.
What is it that they doing to get so much attention and praise in such a crowded and competitive industry? Very few new brokers these days are able to make a name for themselves so quickly. This is a very competitive business and the more established names are tough to beat. Yet Boss Capital managed to do just that. Read on for our full Boss Capital review…
Boss Capital Review Basics
BossCapital Website: http://www.bosscapital.com (now defunct)
Platform Launched: January 2014
Accepts US Traders: Yes
Minimum Deposit: $200 USD, EUR, and GBP
Deposit Bonus: From 30% Up To 100%
Contract Variety: High/Low, Above/Below, One-Touch, Boundary, and Short-Term
Boss Capital Demo Account: Available Upon Request
Platform Technology: Tech Financials

Boss Capital Binary Options Platform & Features
The first thing which we noticed about the Boss Capital trading platform was its unique look and feel. This was somewhat unexpected since we knew that they used the Tech Financials platform technology. Which is a platform technology used by several other brokers in the business that we have traded with. The only broker that  does a better job of utilizing this platform technology is 24Option (read review). And unfortunately 24Option no longer accepts US traders. Let's take a look at some of the highlights and features of the Boss Capital binary options platform.
Very Clean & Easy-To-Use Trading Platform
Advanced Charting & Technical Analysis On-Site!
150+ Underlying Assets, With 200+ Trading Combinations
A Handy Underlying Asset Filtering System
Customer Support In 10 Widely Spoken Languages
"Hassle Free" Guaranteed Withdrawal Policy
Rarer "Short-Term" and "Boundary" Options Available
7 Different Contract Varieties To Trade With
Outstanding Education Center With Video Academy
High Payouts On Short-Term Contracts – Up To 85%
Both Standard and High-Yield One-Touch and Boundary
Boss Capital Review Introduction
Boss Capital provides outstanding on-site advanced charting and technical analysis tools. The only other broker we know of that can offer on-site charting as advanced as this is 24Option. And 24Options is one of the most popular brokers so Boss Capital is in good company there. We usually recommend that our visitors use off-site binary options charts such as TD Ameritrade's ThinkOrSwim software. Or even the popular forex charting software MT4/MT5. However, during our Boss Capital review period we found that this was rarely necessary. Only when making "long-term" trades did we really feel the need to use our full-featured TOS charting software.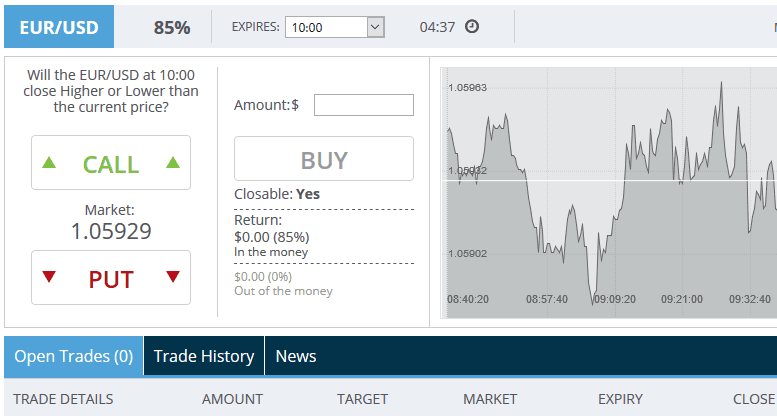 Earlier in this review we mentioned that Boss Capital offers a total of seven different contract types to trade on. Or five if you don't separate standard and high-yield contracts. This is the most you will find at any binary options broker currently operating in the US. There are others with seven. But there are none with more than seven. Let's take a quick look at how each contract is traded.
Standard High/Low & Above/Below
The high/low binary options at Boss Capital are, of course, the standard binary options contracts offered by everyone. These are simply a bet on whether or not price will be above or below your entry price at the time of expiry. These options generally offer between 71% – 89% return rates. And they are the most widely traded contract variety.
The above/below options operate a bit differently. With high/low options the "strike price" is whatever the current price at the time of entry was. You are just choosing whether price will be higher or lower than it is now. With the above/below contracts the "strike price" is a pre-determined rate that is set by your broker. They are set based on current volatility in the market and specific asset being traded. The higher the volatility the farther the strike prices will be from the current price. These contracts are higher risk, higher reward trades which can offer returns as high as 500% in some cases.
Boss Capital "Short-Term" Options
The fast-paced action of 60-second binary options trading was first introduced by Traderush in 2011. It then quickly spread throughout the industry due to their instant popularity. This contract variety has gone on to become the second most widely traded binary options contract. Many brokers have taken the idea even further. You can now generally find contracts in 30-second, 60-second, 2-minute and even 5-minute expiry intervals. This has also proven to be very popular. It offers traders more flexibility and strategy development options. Other than the short expiry windows, however, these contracts are exactly like the regular high/low variety. Boss Capital also offers some of the highest payouts in the industry on these contracts. Up to 85% or even more in some rare cases.

Standard Daily & High-Yield Weekly One-Touch
Another popular variety of binary options contract these days in the one-touch option. Boss Capital is offering these one-touch options in both standard daily contracts and high-yield weekly contracts. The high-yield variety can only be traded on weekends though. We really like this idea though. The ability to trade when markets were closed over the weekend during this Boss Capital review was a nice feature. And these "long-odds" weekend contracts can offer returns as high as 500% or even more in some cases. These are especially useful for event-based trading (company news, earnings releases, etc).
Daily & High-Yield Weekly Boundary Options
Boss Capital also offers boundary options (regular or high-yield). One of the more rarely seen contract varieties. But they are beginning to gain in popularity. Boundary options are somewhat similar to the above/below variety discussed above. With these contracts you choose whether or not the price will finish within or outside of a set price range. You can see this in the image above as the two parallel lines which are defining the price range. At the time of expiry will price be within those two lines? Or will it finish outside those lines? Simple enough.
Boss Capital Review Of Customer Service
For us customer service is probably the single most important factor when choosing a broker. We've seen what happens at binary options brokers with bad customer service. All the features and bonuses in the world cannot make up for bad service. We always make sure to contact a broker's customer service agents a couple of times during our review trials. We will usually manufacture some fake problem we are having with our account or the trading platform. When they can remain friendly while trying to solve a problem that doesn't exist, and can't really be solved, then they are doing pretty well. We're happy to report that during our Boss Capital review tests they went 2-for-2 for positive experiences. Once with a phone contact and again using their live chat feature.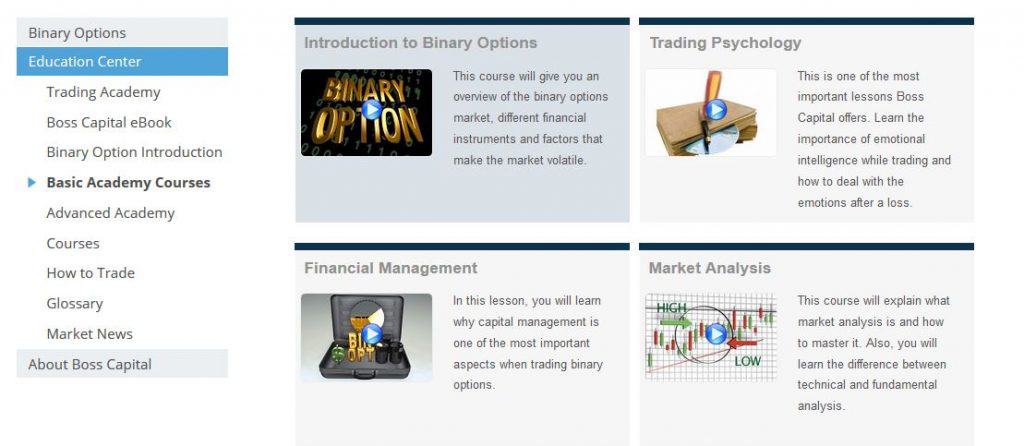 Boss Capital Review – Education And Strategy Resources
We view the educational materials and strategy resources offered by brokers as an important part of their customer service. Many people coming to a broker will be new to binary options trading entirely. And Boss Capital has one of the better education sections which we have come across recently. New clients will get access to a beginners eBook, video courses, market commentary with analysis and a full video academy. They also offer over 15 different webinars for all experience levels. Even very experienced traders are likely to learn at least a thing or two from the Boss Capital education section. Most brokers offer only the most basic of strategy guidance. Strictly for beginners stuff. Boss Capital goes well beyond this level.
Boss Capital Review Conclusion
We haven't had this good of an experience with a new broker in quite some time. Probably since Traderush first hit the scene. As far as global binary options brokers go Boss Capital can probably at least compete with the best. But when it comes to brokers serving the US market Boss Capital is now our newest top choice. That is not to say that they are not also a good choice for those outside the US. They are a solid option for any binary options trader. It is just a matter of having a LOT more choice at hand than US traders currently have. All-in-all this is one of the best new brokers to enter the market in a long time. We expect that their popularity will only continue to grow going forward.
Overall Boss Capital Review Rating = 4.2/5
If you have a Boss Capital review experience you can share then leave us a comment below or contact us!