99Binary Review For 2023 – The Popular US Friendly Binary Options Broker
[Update: 3/14/2022 – 99Binary has run into financial trouble and appears to have turned to scamming their clients to recoup those losses. We recommend staying far away from this broker now!]
This 99Binary review was probably overdue at its original writing, considering the attention which they were getting, but the wait was well worth it in the end. And certainly better late than never! Due to the sheer number of brokers now we usually avoid reviewing one until they have an established history and reputation, and/or have distinguished themselves in some fashion. However, with the attention which 99Binary has been getting in the binary trading community recently, it was no longer really fair to keep ignoring them. With that being the case we decided it was time to give them a shot for ourselves and see what they were really all about.
99Binary Review General Information
Website Address: http://www.99binary.com/
Company Launched: Mid-2013
US Traders Accepted: Yes!
Account Currencies: USD, GBP, EUR
Minimum Deposit: $300
Deposit Bonus: 50-100% (Depending on Account Type)
Demo Account: Yes – Demo Available To Depositors
Trading Platform Technology: By Panda
Brand New 99Binary Feature: Copy-Trading/Auto-Trading Bots/& More
99Binary Trading Platform and Features Review
99Binary has its weaknesses, just as any other broker does, but its trading platform is certainly not one of them (but we will get to those weaknesses later). No, this one belongs solidly in the "strengths" column. We traded at 99Binary for just under five weeks before closing out our account to test their withdrawal procedures and efficiency. And over the course of that five weeks, we did grow to like one feature anyway,  the great new copy-trading feature.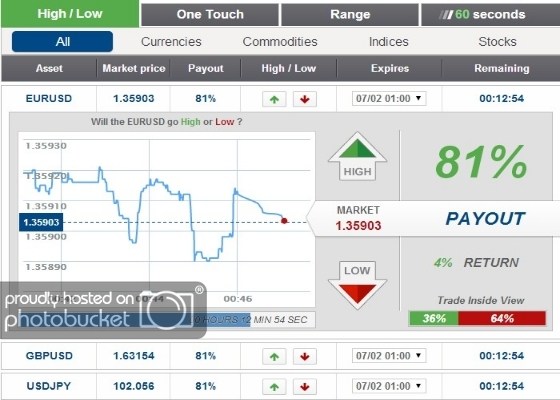 As you can see, the platform has a nice, clean look and simple operation. We never had one issue with this easy-to-use platform during our stay there, and we found it to be fast as well. Price quote reliability was questionable, but hard to determine for sure. The platform does also comes equipped with some decent features, including the copy-trading feature. They also offer the more rarely seen "Boundary" option contract, as well as one-touch options which can be traded whenever markets are open, instead of only on the weekends. The flip side of this is that there is no weekly one-touch options trading on the weekends. Another definite downside to trading with 99Binary.
Trading Platform Features and Highlights
High/Low, 60-Second, Boundary and One-Touch (Daily) Binary Options
Over 80 Underlying Assets To Choose From
One-Touch Can Be Traded Whenever Markets Are Open
"Latest Winners" Feature
English, Russian, German and Arabic Languages Supported
Return Rates: Up o 86% on Standard & 60-Second, Up To 350% on One-Touch
0-10% Refund Rates on OTM Trades
Minimum Trade Size: $5
Maximum Trade Size: $20,000 (one of the larger caps in the industry)

That brings us to the copy-trading feature being offered by 99Binary. This feature allows anyone to profit from the successful trading of any other 99Binary binary options trader. As a 99Binary client you can use the (anonymous) recent trading history data of anyone else trading on the system. You can just browse through the data and if you find someone who is "on fire," or you just like their trading history/strategy, or whatever, you can simply click "copy." When you do a new trade window will open up and give you the option to follow along or "copy" the person's trade(s). This copy-trading idea is already popular with traders of other asset classes (i.e. forex binary options, traditional options, etc.). And it is a cool feature. It is probably the biggest "selling-point" in 99Binary's favor. However, it far from makes up for all the other areas where they are lacking/fail.
99Binary Education and Customer Service Review
This is actually one strong area for 99Binary. The strongest, probably. Because when it comes to binary options educational materials and strategy resources, 99Binary may be the best in the business. This comes as a bit of a surprise because it is a fact which they barely advertise, and which can be easily missed. And that is because their best material is on a sub-domain blog which is only linked to in the footer area. A mistake in our view. As far as their on-site resources it is about on par with most other top brokers. They have a basic "How To Trade" section for beginners, the standard e-book, and a video tutorials section, which is also pretty standard.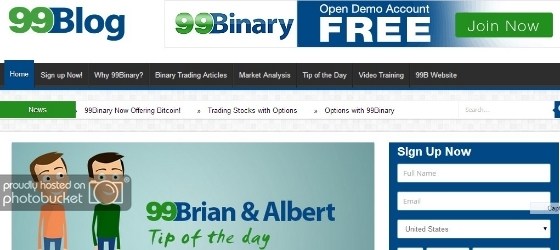 What you can see in the image above, however, is far from standard. It may be hard to find but once you're in, you'll be glad you are. This place is a gold mine for beginners, but there is also something here for traders of all experience levels. It is almost like an entire, stand-alone binary options strategy blog, run by 99Binary staff. It is the kind of place you bookmark and visit frequently.
In addition to the daily market news, analysis and commentary, you will also find a large amount of strategy articles, and educational material from a basic to an advanced level. We were truly surprised to find that there was actually a lot of quality material to be found, and even experienced binary options traders will find valuable insights here. No other broker that we know of operates anything of this caliber. Although we would certainly be interested to hear otherwise as we are always on the lookout for quality resources for binary options.

Customer Service Review
During our five-week stay with 99Binary we had occasion to make contact with their customer service representatives a total of four times, including our withdrawal request. Like most brokers these days they offer customer service through email, live-chat within the website, and phone numbers locally in many countries. We never contacted them through email so we can't give you a response time there, but the live-chat response time during trading hours was sometime prompt, other times not so much. They were, however, consistently friendly and helpful during our service related contacts (consisting of made up problems for the sake of testing them). But more importantly, they were not too pushy or aggressive in trying to get us to cancel our withdrawal request, which can be a problem with some brokers. As a first-time withdrawal, the procedure took a bit over one week from request to receipt. Just a bit above average for the industry for first-time withdrawals. Overall their service was acceptable, but nor great.

Concluding Remarks About 99Binary
Looking at the complete picture we would now have to say that 99Binary is probably not deserving of the attention they have got. Frankly we were taken by surprise while doing this 99Binary review because we did not go into it expecting to find such a popular broker to be so lacking, yet that's exactly what happened.
99Binary Disadvantages
Many Major Languages Are Not Supported
No Weekend Trading of Weekly One-Touch Options
Less Contract Variety and Underlying Asset Selection Than Some Top Brokers
[Updated: Clients Having SERIOUS withdrawal problems and other issues. We must recommend that you stay far far away from this broker. For some better options try visiting our US binary options brokers page–most of whom also accept international clients.]
These major disadvantages took a lot out of the pleasantness of our trading experience during our 99Binary review period. This was a surprisingly unimpressive platform and service that will not easily be able to compete well in this very competitive industry. We see bankruptcy and client funds frozen/stolen in 99Binary's future (this appears to already be happening). In the final analysis, 99Binary failed our review test miserably. And that was even before they started blatantly scamming clients! Do yourself a favor and trade with one of our recommended brokers instead. That way even if you do–unlikely–have an issue with the broker, we can often help by using our leverage as a promoter of their brand. We will NOT list brokers who steal from their clients and these brokers know this. They also know that us removing them from our website will cost them a heck of a lot more in lost clients than it would ever cost to simply fix the problem and/or pay out to the aggrieved client ["Best US Binary Option Brokers"].
Overall 99Binary Review Rating = (1.55/5.0) Stars = Binary BUMS!!!
[Related: BinaryMate Review 2023 | Bloombex Options Scam Review]
Please leave us a comment below or contact us to share your own reviews of 99Binary and your experiences trading there with the community.