Raceoption Review Introduction

Raceoption is the latest binary options broker to enter the market serving US traders, and has quickly gained popularity with US, and worldwide clients. This is very welcome news for a rather neglected market segment. Due to regulatory challenges there are currently only a few brokers willing to navigate the obstacles and offer their services to clients based in the US. So any additional competition in this area is a net positive for traders, even if they use another broker. But we wanted to know whether or not Raceoption actually stacks up to the competition, and if they are worth considering as an option for US based traders. So that is what we set out to find out by opening a standard, $250 minimum deposit trading account with Raceoption and then taking the platform and service for a 30-day "test drive" for our 2023 Raceoption review.
Raceoption Basic Information
Website: http://www.raceoption.com/
Accepts US Clients: Yes!
Minimum Deposit: $250
Deposit Bonuses: Yes. From 20% – 100% (Based On Deposit Amount)
Free Demo Account: Yes (For Clients Only Though)
Trading Platform Technology: Proprietary
Mobile Trading App: Yes. iOS and Android.
Contract Types: Binary Options, CFD/Forex, High/Low, Turbo, Long-Term, One-Touch
Asset Selection: Over 150 Underlying Assets
Read On For Our Full-Length Review…
Raceoption Platform And Features Review
The Raceoption trading platform is a proprietary (built in-house) software which offers a smooth and intuitive trading experience for traders of all skill levels. The platform also includes a host of helpful features to make your trading experience a more pleasant, and hopefully more profitable one. We felt very comfortable trading on the platform during our 30-day review period there, and experienced no major problems. And in addition to the standard binary options contracts offered by all brokers, Raceoption also offers a selection of leveraged CFDs, and Forex currency pairs to trade on. The trading mechanism remains the same for all three contract types, however, so it is uncomplicated to switch between contract types.
Key Features And Advantages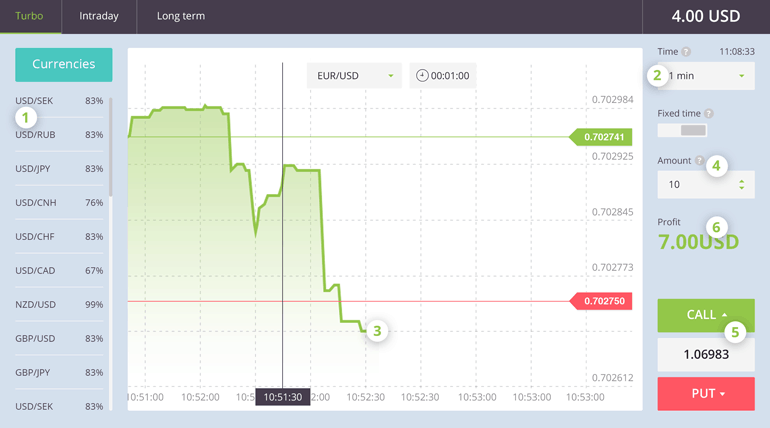 From the main trading screen (seen above) you will have access to special features like the weekly Raceoption trading contest. As well as the very popular copy trading feature (which will be briefly covered below). You will also find tabs for other features like advanced charting, technical analysis, fundamental analysis, market news, free trade pattern ideas, and even a helpful events calendar to help you "trade the news". The most popular feature of them all, however, is probably their copy trading feature which we mentioned above. This great feature allows you to sort through and follow traders, and then "copy" the trades of the most successful traders on the platform. This can be especially useful for new traders to make a little money, while learning from the best about the ins and outs of what makes for a good trade. We played around with this feature quite a bit during our time there. It was largely responsible for the small amount of profit we ended up making by the end of our 30-day Raceoption review period.
In addition to the features described above Raceoption also offers the popular "Double Up," "Rollover," and "Sell Out" trading options. These are fairly standard offerings among binary options brokers these days. But if you are unfamiliar with them you can read up on these features under the "FAQ" section of the Raceoption website. Additional advantages of Raceoption are their live chat feature, the $1 minimum trade size, and their one-hour withdrawal processing times. All together this made for a very pleasant trading experience during our time there. It is clear to us that Raceoption offers one of the most competitive services among US binary options brokers.
Raceoption Contract And Asset Selection Variety
The Raceoption trading platform offers contracts for binary options, leveraged CFDs, and Forex currency pairs. Between these three contract types they offer a total of over 150 underlying assets on which to base your trades. This is great as it means that there is always trading action to be found. Any time of day or night, Monday through Sunday, 365 days per year! Below you can see a breakdown of the various assets offered for each general category of asset.
Stocks – 80
Currency Pairs – 36
Commodities – 9
Indices – 37
Crypto – 14
Grad Total – 176 Underlying Assets
Raceoption Review Conclusion
At the conclusion of our 30-day review period we had a balance of $323.55. This makes for a profit of $73.55 on our original investment of $250. Not exactly getting rich here, but not bad considering we usually lose some money doing these reviews. This is due to the wide variety of trades we make to get the best feel for a platform and all it has to offer. That makes it hard to follow any real strategy. You should always have an overall strategy for your own trading. Do as we say, not as we do! Once we requested our withdrawal of funds (an important test), it was processed in about two hours. After that it took about a day to show up on our statement. This is a bit better than industry standard in our experience.
Our overall experience with the trading platform and customer service was quite good. We can definitely recommend this broker as a good choice to our fellow traders in the US (and elsewhere). If you have any experiences of your own with this broker we would love to hear from you! Please feel free to leave a comment below with your own Raceoption review experience, or simply contact us and leave your experience so we can share it with others. Happy trading!