StockPair Review Updated For 2023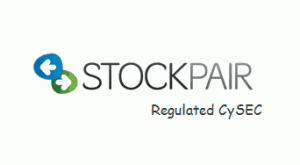 Stockpair has been around for about 7 years now and they enjoy a stellar reputation among traders. But is this reputation deserved? We set out to answer this question in our updated Stockpair review for 2023. Stockpair started its life as the first and only broker to specialize in pair options trading. And they did this very well. Stockpair is, in fact, the undisputed king of pair options trading. They are also well known as a reliable broker that pays out their withdrawals quickly upon demand. But they have evolved over the years and have also added binary options trading to their lineup as well. So although we have reviewed them before, we thought changes this big warranted another look and a new review. So how do they stack up against the competition now? Read on to find out…
Stockpair Review Basic Information
Specializes in Pair Options Trading
Website Home: http://www.stockpair.com/
First Launched: 2010
Accepts US Traders: No
Account Currencies: USD, EUR, GBP
Minimum Deposit: €/£/$200
Deposit Bonus: 30% Standard & Up To 50% on VIP Accounts
Demo Account: Not Currently Available
Read On For Our Full Stockpair Review…
Trading Platform Information & Features
Specializing in two unique pair options: "Fixed" and "Floating" contracts
Unique and proprietary trading platform technology
New binary options trading platform
Newly added "KIKO" options contracts
150+ underlying assets to choose from (one of the best in the industry)
The largest selection of global stocks in the industry
Over 200 unique tradeable assets (binaries + pairs)
Small minimum trade size of only $10
Platform Languages: English, French, Arabic, Italian, Dutch and Spanish
Up to 86% on binary options and "fixed" pair options
Up to 350% on "floating" pair options contracts (available all week)
Extensive education section with strategy articles
Accurate, real-time pricing model
Risk-management and technical analysis tools
Reliable and Trustworthy broker with a long history of excellence
Stockpair is most famous for their highly popular pair options trading platform. It was and still is the first and only of its kind, and they've been very successful with it. For those not familiar with Stockpair's pair options they offer two distinct contract types: "fixed" and "floating". Both varieties are based on relative performance and are therefore completely market-neutral. An advantage of pair options trading. There are some big differences between them though, which we will cover in the detailed Stockpair review continued below.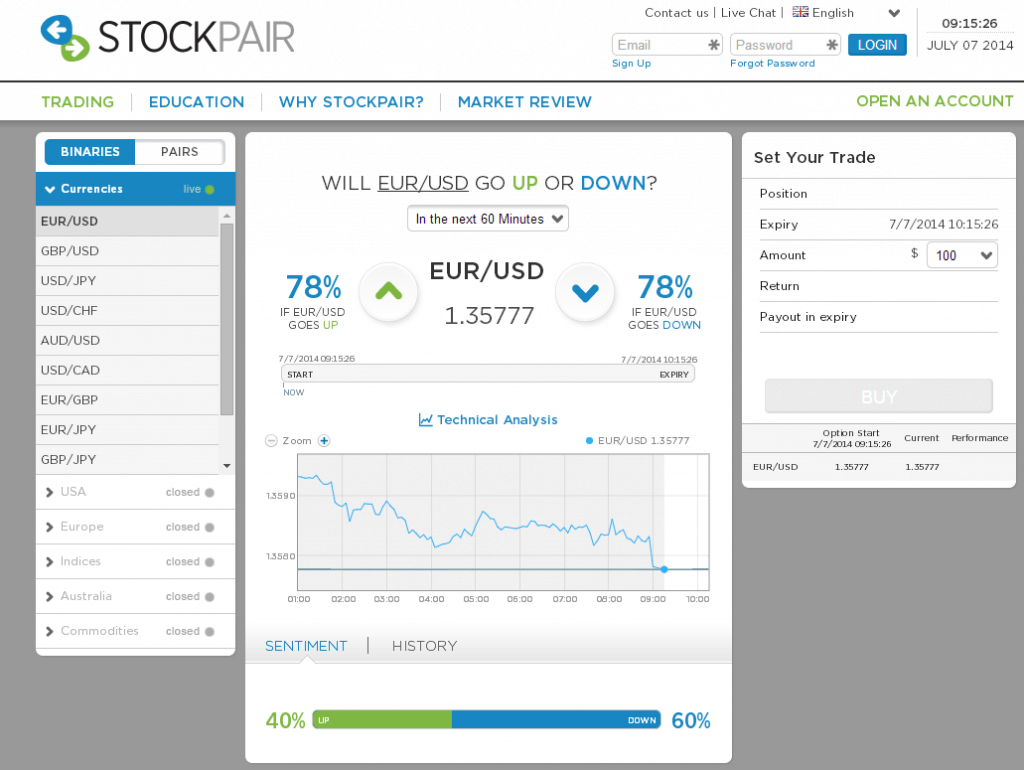 Stockpair Fixed Pair Options
Fixed pair options are the "standard" pair options contract, akin to the high/low binary option contract. With this variety of pair option the relative performance of the "paired" assets is determined from the time of purchase, to the contract expiry. In other words they are normalized at the time of purchase and set equal to each other. Only the period going forward is taken into account. These contracts can be purchased with expiry windows ranging from 5 minutes to 150 days! An impressive range. Fixed pair options offer payouts of up to 86%, and in our experience an average in the high 70's.
Stockpair Floating Pair Options
Unlike the fixed variety, these contracts do not normalize at the time of purchase. The relative performance of the paired assets is therefore determined over the course of a predefined period of time. Stockpair offers two different expiry windows of either one day, or one week. So for example if you purchased the weekly contract on a Wednesday the relative performance of the two assets would be measured from that Monday to that Friday. This means that the performance gaps can become rather large before the contract is ever purchased. The larger the gap the more risky or safe (depending on your play) the trade is. Which means the returns offered on these contracts can vary widely. Returns can be as little as just a few percent for an asset which is greatly outperforming its paired partner, or up to 350% on an asset which is greatly under-performing its partner. Trades will be suspended if the gap becomes large enough that the returns would have to be over the 350% maximum. This is to prevent an unfair advantage for Stockpair. Which would occur whenever a gap became larger than a 350% return could compensate for.
Stockpair Binary Options Trading Platform
The new additions since our last Stockpair review are high/low binary options contracts and KIKO options contracts. With a ton of underlying assets to trade on. More than most dedicated binary options brokers, in fact. They already had the large underlying asset lineup so all they needed to do was adapt their unique trading platform to handle standard high/low binary options. But how does their binary options platform stack up against the platforms of other top brokers? We would say they do quite well, actually. Their platform is reliable, clear and simple, has a great asset selection, offers high returns, and even comes with helpful technical analysis and risk-management tools. A solid showing for a broker who did not even offer binary options contracts when we did our last Stockpair review in 2014.
StockPair KIKO Options Contracts

KIKO Options – With KIKO Options You don't have to choose an expiry time!KIKO options are a relatively new but fairly simple trading instrument in which the trader predicts which of the upper or lower price targets (barriers) the asset price will hit first.
If it first hits the price target that the trader has chosen (Knock-In), the option will expire "In the Money" (ITM) and they will receive a payout.
If the asset price first hits the opposite price target, the option will expire "Out of the Money" (OTM) and there will be no payout.
There is NO set expiry time. This means that the trade will continue until the asset hits one of the barriers.
Advantages of trading KIKO Options
High Payouts – up to 80%
No Expiry – no need to choose a duration and commit to a time frame
Simple and Intuitive – easy to use and easy to learn
Stockpair Customer Service & Reputation
For every review we do we try to make at least a couple of contacts with the broker's customer service reps to see how they handle difficult requests or account problems. We simply make problems up and see how they handle things. We like to do more than one so that we can test different contacts and channels. For this Stockpair review we contacted them through live chat once, and email once (not including our withdrawal request). Both contacts were friendly and helpful throughout the process, despite my occasional rudeness (all part of the act). As for our withdrawal request at the end the Stockpair review period, it was handled promptly and professionally. In addition there was no badgering us to cancel the request and/or deposit more.
Reputation is extremely important in this industry. We think there is no better indicator of a broker's overall quality and reliability than their longevity and reputation in the binary options trading community. Stockpair enjoys a reputation going back over seven years of excellent service and reliability. They get high marks from us.
Stockpair Review Conclusion
Stockpair has been a great broker for years but because of that we had high expectations for their binary options platform going into this review. We were happy to find that they were mostly able to live up to our expectations. We would, however, like to see them eventually add 60-second options to the lineup (Update: They now offer 60-second binary options). With this addition of Stockpair binary options trading they can now compete directly with the other top binary options brokers in the industry. In fact we would probably put them in the top 5 overall right now (for traders outside the US anyway).
Stockpair Review Rating = 4.7/5 Stars
*** Register A Free StockPair Trading Account ***
If you have your own experience with Stockpair please comment below or contact us!