24Option is one of the oldest and most popular of the global binary options brokers. And despite exiting the lucrative US binary options market in 2015, they have remained one of the most popular brokers in the EU. They have always enjoyed a great reputation among traders and industry watchers but a lot has changed recently. We hadn't traded with them for awhile and wanted to check back in and see if they were still living up to the reputation they had previously earned. Are they still competitive with other comparable brands in the industry? That's what we wanted to find out in our updated 24Option review for 2023.
24Option Review General Information
24Option Website: http://www.24option.com/
Platform Launched: Late 2011
Accepts US Traders: No (See Raceoption Review for US-Friendly Broker)
Minimum Deposit: 250 (50,000 JPY)
Account Currencies: USD, EUR, CHF, GBP, JPY
Deposit Bonus: Yes – From 20% Up To 100%
Contract Variety: High/Low, Above/Below, One-Touch, Boundary, and Short-Term
Other Instruments: Forex and CFDs are also offered at 24Option
24Option Demo Account: Yes – But For Depositors Only
The 24Option trading platform is one of the most feature-rich platform of any binary options broker operating in the market. Generally we recommend that our readers use more advanced off-site charting software (such as the free TOS software by TD Ameritrade) for their binary options trading analysis. But in the case of 24Option we only rarely found it necessary, or even desirable to go off-site to use the more advanced, downloadable TOS charts and technical analysis tools. That was certainly a pleasant change of pace, and makes for a noticeably more convenient trading experience.

24Option General Information & Feature Highlights
Trading Platform & Service Available In 16 Languages
Now Offers FOREX and CFD Trading!
Can Make Max Investments of Over $50,000+ *Highest In Industry*
Hard To Find Trading Options Offered
Large Library of Training Videos & Articles For Beginners
The Best Mobile Apps In The Industry That We Have Seen
Daily One-Touch & Boundary Options + High-Yield Weekly Variety
Licensed & Regulated by The EU's CySEC
Frequent Promotions & Trading Contests With Great Prizes!
24Option High/Low & Above/Below Option Contracts
The above/below contracts may seem quite similar to standard high/low contracts but they work very differently. They also offer much higher potential returns. In some ways they are more similar to a one-touch option than a standard high/low option. The payouts are similar to one-touch options as well. However, unlike the one-touch these options must be ITM at expiration like the standard high/low. You won't find these contracts at very many brokers, but they can make for some interesting trading and strategy development options.
24Option Short-Term Binary Options Contracts
Moving on to the next most popular contract variety, we have the "Short-Term" binary option. This is 24Option's answer to 60-Second options trading. Instead of just 60-second contracts 24Option gives you a choice between 30-second, 60-second, 2-minute and 5-minute contracts. This gives the trader more flexibility in their trading and strategy development than they would with strictly 60-second options.
24Option Daily & High-Yield Weekly One-Touch Options
24Option offers both daily one-touch options and high-yield weekly one-touch which are available for trading during the weekend. The best of both worlds. The daily variety of these contracts will have smaller magnitude "strike price" levels. Therefore smaller return rates will be offered on these. For these contracts you can expect returns as high as 89%. With the high-yield weekly options they can range from around the 200%+ level to as high as 310% in some cases.
24Option Boundary Option Contracts – In/Out Options
The boundary option is one of the more rarely seen contract varieties. They can only be found at a small handful of brokers at this time. Whether or not that changes going forward will depend on customer demand, how popular they get. 60-Second options started with Traderush, for example, but eventually spread across most of the industry as their popularity skyrocketed. This is a highly competitive industry. As a general rule, the customers get what they want, or they go someone where they can get it. The future of these contract varieties depends on their success at their respective brokers.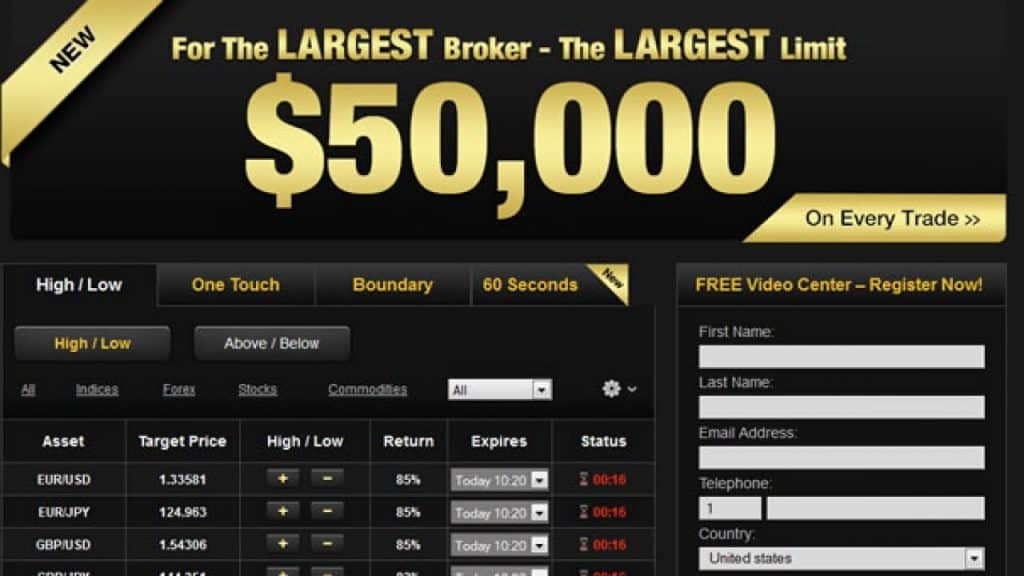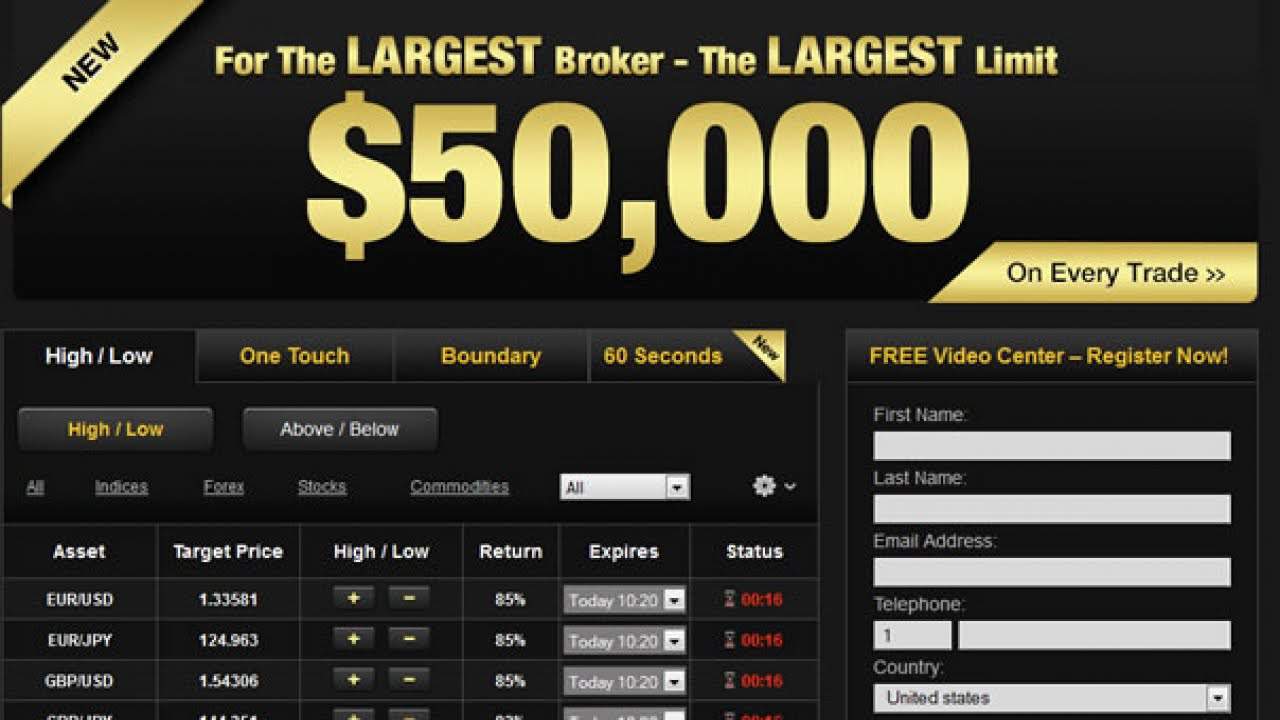 All told that makes seven different contract varieties just for the binary options side of things. Then of course they also have Forex and CFD trading available. Certainly one of the most diverse brokers out there offering plenty to always keep you busy. You'll never have any trouble finding potential trades with 24Option. They could possibly use some improvement in their underlying asset selection in our opinion, but it is still pretty good, and definitely has all the most popularly traded global assets. And they make up for any lack that may exist in that department with their great contract variety. Overall 24Option may just have the best on-site trading platform of any broker currently operating in this business.
24Option Customer Service & Reputation Review
During our 24Option review period (32 days) we made a total of 4 contacts with their customer service agents. Twice through the on-site live-chat feature. Once through email. And once by phone (the last being our withdrawal request). We're happy to report that this year they went 4 for 4 with positive experiences each time. The response times for the live-chat contacts was a matter of seconds to just over a minute. And the email question was responded to in about 10 minutes (this was during market hours). The withdrawal process was hassle free, reasonably fast, and with no withdrawal cancellation pressure.
24Option Review Conclusions
As for the reputation of 24Option, this is one of their strongest points. Within the community of binary options traders 24Option has a reputation for a long history of reliability and excellent service. You would be very hard-pressed indeed to find anyone with a legitimate bad word to say about this broker. In short, 24Option is one of the most trusted and financially sound brokers in the industry.
Overall 24Option Review Rating = 4.85/5 Stars

As always, if you have any personal experience with 24Option you would like to share please leave a comment below! Or Contact Us. We and your fellow traders appreciate your valuable feedback!