BinaryMate Review Introduction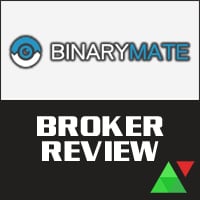 BinaryMate is a relatively new player in the hyper-competitive binary options industry. However, in just a short time they have managed to catapult themselves to the very top of the US market (only NADEX serves more US clients and they are a different ballgame, so to speak). They also accept traders from around the globe, without restriction, and have become very competitive in the global market as well. These points as well as visitor questions and feedback spurred us to do this BinaryMate Review. We figured they must be doing something right over there to gain such a large following and client base is such a relatively short period. We wanted to find out for ourselves–and our readers–just exactly what that something is. Or maybe it's all just hype? So we took $500 and opened a standard account with BinaryMate for a 30-day review period, wrapping things up with a withdrawal request at the end of that 30 days for that all-important test. Below is our detailed account of our experience during that 30-day review period, as well as our final conclusions regarding whether or not BinaryMate is truly deserving of this attention and popularity. Are they really the best US binary options broker currently competing in the US market? But first lets start with a few basics.
The BinaryMate Basics (9.5/10)
Public Launch: Mid-2016
Website Home: http://www.binarymate.com/
Minimum Deposit: $250
Deposit Bonus: Yes – From 20%-100% + $250 Welcome Bonus
Return Rates: Max up to 95% | Avg. Over 30-day Review Period: 83%
Minimum Trade: Just $1
Maximum Trade: $10,000
Account Currencies: USD/EUR/GBP
Accepts US?: Yes – Very US-Friendly
Restricted Countries: No Restrictions – All Countries Welcome
Platform Technology: BinaryMate Proprietary Platform Technology
Mobile Trading Apps?: Yes – iOS and Android Apps Available
Read on For Our Detailed BinaryMate Review…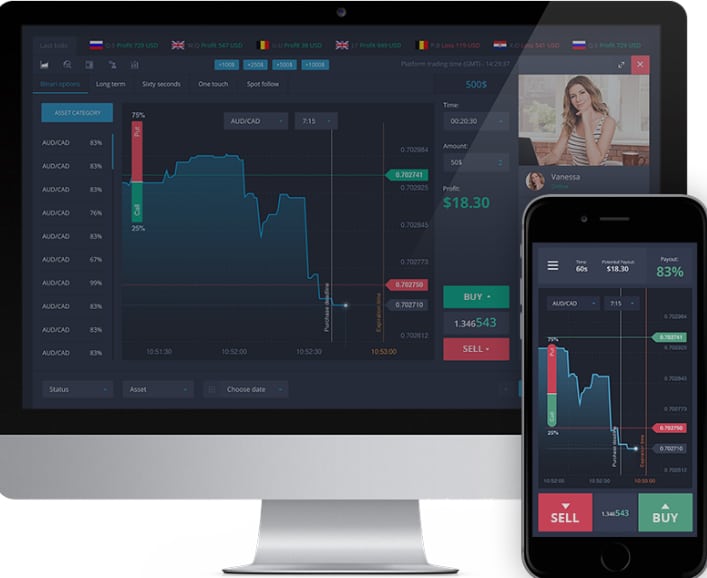 BinaryMate Trading Platform Review (9.25/10)
As we mentioned under the "BinaryMate Basics" section, BinaryMate uses their own proprietary technology to power their user-friendly trading platform. This has several advantages over the majority of brokers who use "white label" trading platform technology. First of all it allows BinaryMate to better control the platform dynamics, features, price quotes, return rates and more to best suit the developing needs of their clients. It also allows them to ensure the reliability and stability of the platform at all times. They have created a platform that is both user-friendly while still offering a feature-rich trading environment. This approach creates a platform and service that is suitable for both beginners and more experienced binary options traders.
Possibly the most popular feature offered by BinaryMate is their innovative Live Video Chat service which is integrated directly into the trading platform to be used without having to leave your trading screen (it is also available from anywhere on the site with a click of your mouse). We also want to mention that we received a $250 demo account to trade/practice with during our 30-day review period (they were not aware that we were anything but a regular client). This demo account offer is available to all BinaryMate clients (sorry for depositors only). This demo account is useful even if you are an experienced trader for learning the specific ins and outs of the BinaryMate trading platform. Another important feature worth mentioning here is that their platform is compatible with the popular binary options robot BinBotPro. You can actually get this robot for free simply by signing up for your BinaryMate account by going through the robot rather than registering directly at the BinaryMate website. We're personally not big fans of robots of any kind but we may be in a minority there. They are certainly very popular these days.
BinaryMate Customer Service Review (9.75/10)
This is an area that BinaryMate chose to heavily invest in and concentrate on being the best in the industry. We don't know if they've quite reached that lofty goal but they are certainly putting in a good effort. Their 24/7 live video chat is unique to the industry and provides an exceptionally high level of customer service in a timely manner. You can, of course, also reach them by phone, email, or their website "contact us" form. But most of the time using the live chat feature will be the preferred method. As for the actual effectiveness of their customer service agents? We found them overall to be both quite knowledgeable (with a single exception during our many contacts), helpful and friendly. When we presented them with (fake) technical problems related to the platform and (real) trading strategy questions they were quick to very competently explain to us how to solve our technical issues, and even refunded a trade made by accident in a "fat finger" incident. The fault was clearly our own yet they refunded the trade anyway. That was a much appreciated gesture. As for questions related to trading strategy, again overall we found their agents to be very competent and helpful in this area. The one time we did get someone we did not find particularly knowledgeable or helpful they simply transferred us to a different agent.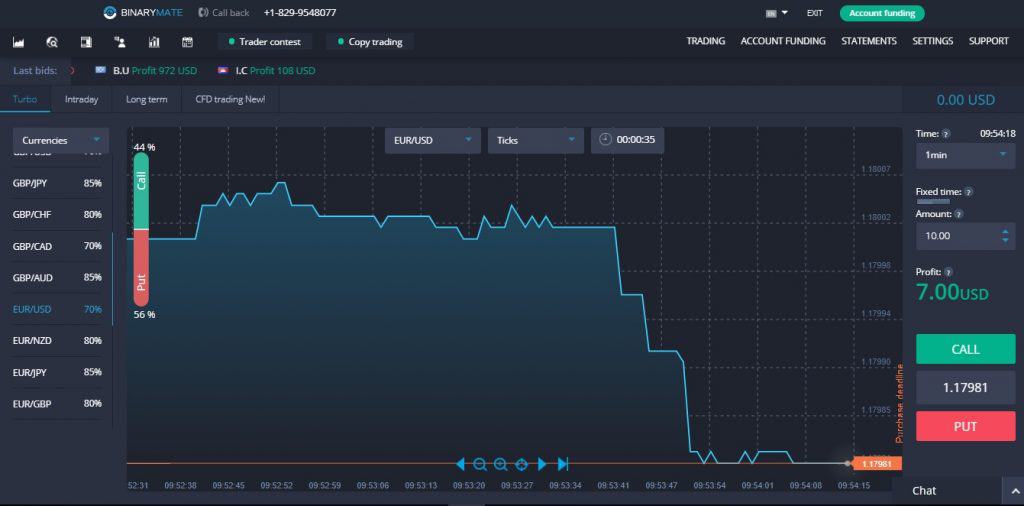 BinaryMate Features and Services Summary (9.25/10)
During our 30-day BinatryMate review period we slowly but surely began to take more and more advantage of some of the great features BinaryMate offers their clients. For us the two most useful offerings by BinaryMate were their technical analysis section where you can find both in-house technical analysis articles which are published daily, as well as advanced charting software and technical analysis tools for doing your own research and analysis. And this is just one part of their overall education section. A very useful resource. The other service we used most frequently was, unsurprisingly, their live video chat service. This service can be used for almost anything. From answering questions about the platform and their various features and services, to solving any technical/platform issues you may have, to brainstorming a trading strategy for the day's markets. We found the BinaryMate agents to be mostly knowledgeable and very helpful in both categories. This service is no doubt one of the main reasons behind BinaryMate attracting so much attention in the industry and among the trading community. While these were our two favorite features available from BinaryMate, they are certainly not the only ones worth mentioning.
BinaryMate's Top Features and Services
24/7 Live Video Chat With Knowledgeable And Helpful Agents
A Truly Standout Education Section With Materials, Tools, Market Analysis and More That Can Benefit Traders of All Experience/Skill Levels
Welcomes Clients Worldwide, With a Strong Commitment to the US Market
Withdrawal Processing in 1-Hour, Not Days or Weeks
Money Management and Market Analysis Tools
Trading on Weekends
Great Deposit Bonus Offers
A Practice Demo Account Available
Return Rates as High as 95% (about 83% avg. during our review period)
Minimum Trades of Just $1
Customer Service Available in English, Spanish, French and Russian
A Very Functional, Easy-To-Use and Feature-Rich Trading Platform
Synchronized, Live Price Quotes Directly From The Exchanges
(Most brokers use their own formulas to calculate prices, which makes it harder to perform technical analysis using any off-site resources.)
Contract Expiries From 60-Seconds to 1-Year
Mobile Trading Apps Available
Early Closure Feature and More
BinaryMate Review Conclusions
As you may have guessed by now, BinaryMate did a pretty good job of winning us over. Well enough that after our review period ended we opened our own personal trading account there, which has become our main trading account since then. With that in mind we would have to say that if, like ourselves, you live in the US then BinaryMate is probably the best us binary options broker currently out there. However, they also accept clients worldwide, with no restrictions. This is great news for some of the under-served countries/markets out there, and has helped make BinaryMate a competitive force in the international market as well. They can certainly be a solid choice for traders from any country, regardless of the other competition available to them. BinaryMate is A broker worth at least looking into, no matter where you reside.
Overall BinaryMate Review Rating = 9.5/10 = Binary Bosses
Visit BinaryMate
As usual, if you have any experience with this broker please feel free to share with us and the community! You can leave a comment or contact us with your own BinaryMate Review and/or feedback. Nothing beats the feedback from other real life BinaryMate clients or former clients and we rely heavily on visitor feedback when making our listing and ranking decisions. Good luck in all your trading activities!
2 Responses