Traderush Review – Binary Options Bosses? or Just Your Average Bums?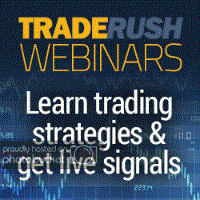 Traderush is currently the leading broker in the global binary options trading industry. They are also our personal broker and all-around favorite. It is their reputation for reliability, great customer service, and market-leading innovations that has really set them apart from the crowd, and propelled them to the top of their industry. And since it has been about a year since our last official Traderush review it was past time for a new, updated version reflecting all the many changes made there over that time.
(Important Update: Traderush will no longer be accepting US clients. We have moved our trading account to GOptions. Of course if you are not in the US this doesn't affect you, and Traderush is still an outstanding broker.)
Traderush entered the binary options market in mid-2011 by being the very first broker to introduce the now wildly popular 60-second binary options contracts. This gave them instant recognition in the industry, and gained them a large following of influential traders in the binary options community. And they have only improved on their position in the intervening years by following up with a long-line of market-leading innovations and standard-setting service improvements. And this is why Traderush is the only broker who can boast of having attracted over 1 million clients to their trading platform and service! An impressive feat in this still relatively small (though rapidly growing) financial market niche.
Basic Traderush Information
Website Homepage: http://www.traderush.com/
Website Launched: August 2011
Account Currencies: USD, EUR, AUD, GBP, CAD, NZD, JPY
Traderush Minimum Deposit: $200 (or 20,000 JPY)
Mobile Trading Platform: Yes – iPhone & Android
Free Demo Account: Yes – Register + Provide code "DEMO500" to support
Accepting US Traders: No Longer – Boo!
Traderush Deposit Bonus: Yes – Up To 100%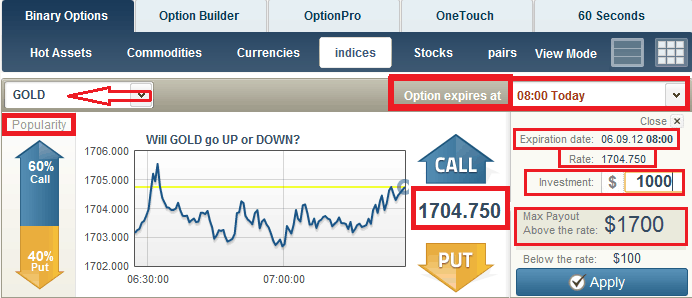 Trading Platform & Features Review
The Traderush platform is based on the SpotOption technology, the most popular and widely used binary options trading technology currently in use. It's popular because it is know to be mostly reliable and lag free, an important factor when trading such short-dated contracts. But the overall quality of the trading platform mostly comes down to Traderush's implementation of the technology, and the unique features which they have chosen to introduce over the years. When we evaluate a broker's platform we look at things like the variety of contract types offered, the number of underlying assets available to trade on, the range of expiry offered, and the trading features and tools made available to traders. In other words, the important factors which actually affect your trading. Far too many reviews we've seen fail to look much beyond the superficial and get at what really matters to traders.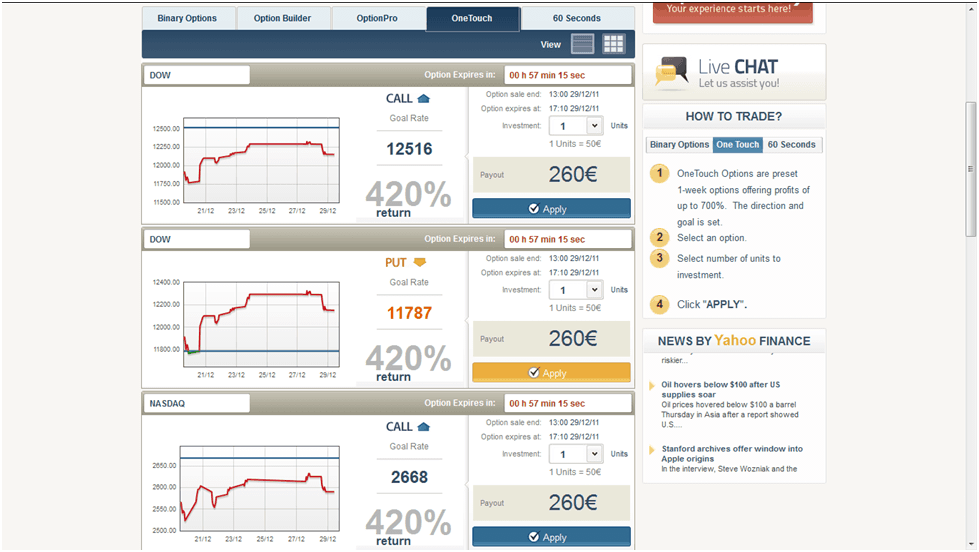 When you look at the factors which really matter — those that affect our trading decisions and their outcomes — then we are confident that you will find that Traderush comes out at or very near the top in nearly every category of importance you can think of. From expiry variety (60-seconds to up to 6-months on some assets!) to number of underlying assets to trade on (over 175 and counting), Traderush beats or competes with the very best of them.
Trading Platform Features & Highlights
In addition to the points which we have already mentioned, below is a list of important platform information, available trading features, and some highlights of the Traderush platform and service. The thing about Traderush though is that they are continuously adding features and assets, as well as making other, smaller improvements. They generally make our reviews obsolete within a month or so of writing them, the jerks.
Contract Types Offered: High/Low, One-Touch, 60-Second, Custom Build, Pair Options
Total Underlying Assets: 178 and still rising (most in the entire industry)
Minimum Trade Sizes: $5 for 60-second, $10 for Standard & Pairs, $25/One-Touch
Maximum Trade Size: $500 for 60-Second and $2,000 on Others
Return Rates Offered: 70-81% for Standard & Pairs, 65-75% on 60-Second, Up To 600% on One-Touch
OTM Refund Rates: 0-15%
Platform Languages: English, Spanish, German, Japanese, Russian, Swedish, French and Arabic
Roll-Over, Double-Up and Close Early Features
Detailed Pop-Out Charts For More Accurate Entries (and to use Early Close feature)
An Extensive Education Section Including Live Webinars and Video Academy
A Personal Account Manager With All Accounts
Traderush Customer Service Information
The Traderush customer service team has always been outstanding in our personal experience (in almost 2 years trading there), remaining friendly and helpful even throughout admittedly frustrating problems (though many of those "problems" were mere fiction just to test their responses for previous reviews). When we consider a broker's "customer service" we also include within that category the reliability and reputation for honesty that a broker has in the trading community. In this industry we believe that having an established reputation for these things is just about the best indicator you will find of a broker's quality. And Traderush has one of the best reputations in the business among the relatively small, tightly knit binary options trading community.
Customer Service Available 24/7
Can Be Reached Through: Phone, Email, Live Chat or your Account Manager
Over A Dozen Local Numbers For Support
Support Languages: English, Swedish, Spanish, Japanese, German, Arabic, French and Russian
Concluding Remarks On The Traderush Service
As we had mentioned at the beginning of this review, this is a broker which we have quite a lot of personal experience and history with so this review was a piece of cake to write. We try not to favor any one broker over another too much — other than pointing out the relative strengths and weaknesses of each — but in the case of a Traderush review, it is always unavoidable. Between our personal history there and their truly excellent service we can't help but strongly favor them. They are not, however, the only great broker out there and differing needs and preferences mean that no single broker, no matter how good, can be the right choice for everyone. With that said…
Over the course of the last few years of trading and writing about binary options we have had the opportunity to trade with over two-dozen binary options brokers in total. Of these 25 brokers odd brokers, most of them have been "okay," a handful have been poor, a few have been downright terrible, and a few have been truly outstanding. Traderush sits comfortably atop that "outstanding" short-list. They originally won me over with the variety in their trading platform and the personal touch to their customer service. And it is that plus their constant service improvements and market-leading innovations that has kept us there ever since.
Overall Traderush Review Rating = 4.75/5 Stars! – Definitely Binary Bosses
Traderush Review Video Overview
Please comment or send us your own reviews of Traderush if you have any experience with them!